Most people thought we were crazy to go on a vacation so far along in the pregnancy. And then they found out we went to London! In hindsight, yes it was crazy. Very Crazy. But the opportunity presented itself, D's boss said 'yes', and so we went.
London, England was D's #1 place in the world he wanted to go. We had always talked about going, but either time or money was a problem. D wanted to go before we had kids. So, um... well... tick tock, tick tock.
He had a fabulous time. We ate lots of asian food, fish-n-chips and went to LOTS of museums. D is a WWII buff and has a slight infatuation with Winston Churchill (one of our cats is named Churchill) and pretty much anything war or airplane related. We went to 4 (FOUR) war museums, including a huge aviation museum in Duxford (not so near Cambridge). I can report that all of the cafe's in the museums were the same, as were the items in all of the gift shops. D swears I can pick the next vacation spot, which will involve lots of beach/pool time, palm trees, blender drinks and the like. And not a museum in sight!
Here are some of the highlights:
D at the Imperial War Museum, Duxford... they actually restore the planes here. Can you stand it?!?
Evidence: we were here. Trafalgar Square. The weather was really nasty that day.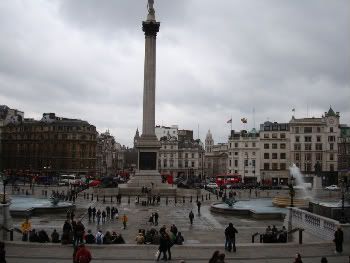 This sign was on all of the tube trains, but no-one ever paid attention to them.
Look kids! SUN! In England! We went on the London Eye. It was actually pretty cool. Btw, I'm the p/g one here. Not D.
Westminster Abbey. Note the guys standing just under the round stained glass window. I'm still miffed they didn't allow photos inside, *and* charged admission...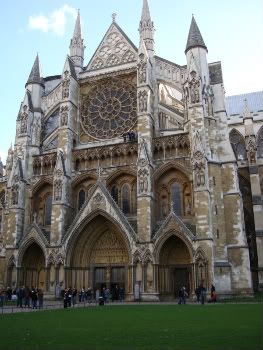 I have no idea what these buildings are, but it's near Downing Street. The sunset and sky colors here are gorgeous! I actually took this photo b/c we both thought it's be a great place to let the dogs run. They'd love it!