Here's today's u/s picture. I have more (to show family) but the lighting this afternoon is difficult and I can't get a clear shot of them easily. Everything is fine, the Dr. even saw 'boy parts' (even though we already knew that). The most hysterical part was that she said his arms seemed rather long. D has what I call "monkey arms". Great for reaching things behind the sofa w/o having to move, great for swimming, bad for buying shirts and sweaters. :-) As long as the kid doesn't get daddy's feet or mommy's teeth, it's all good.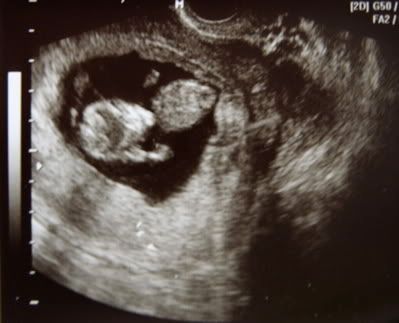 My weight is strangely back up to where it was at my 1st appt. I guess our scale was off at home. I think the m/s might be on it's way out. I seem to have a bad day every 3-4 days, then a recovery day, then a day or 2 of OK days. Evenings are still touch and go, much to D's dismay, since that's the only time I really get to see him.
Next appt is Dec. 22, right before Christmas! And if you can believe *that*, the appt after that will be the 'big' anatomy scan when normal people usually find out if they're having a boy or girl. I'm kind of liking all of this happening around the holidays because holiday crap is a nice distraction. I might even be wild and crazy and put up a Christmas tree this year. OK, if one goes up, it'll be a smaller 7' one, not the gigundo 12' we usually have. Fake, of course (I'm deathly allergic to pine).
Yesterday I was out shopping with a friend and she was picking up her kids' Xmas pictures. Another lady was there w/ a 6mo baby boy getting his pics taken. C was all excited and exclaimed, "Look!!! You'll have one of *those* next year!!!"
I think I might be beginning to believe it. Maybe....