Today's appt was bright and early at 7:30am. Welcome to my Sunday. We welcomed 11 follicles to the u/s screen this morning. Most in the 17-19mm range. 2 were over 20mm, which is great. We'll probably trigger tomorrow, with the ER on Tuesday. More details as I find them out tomorrow.
Tomorrow is going to be a busy day-- between the 2 of us we have 4 appointments. Much to D's dismay, he is probably going to have to do a blood draw while out here. If you recall, it was quite the production in December.
Today we went up to Estes Park with friends, photos below.
View of Long's Peak.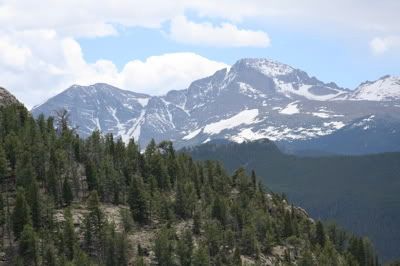 Evidence that We Were Here.
I would also like to thank everyone back home who is taking care of our (many) animals and our home. At last count there are about 10 people helping 'hold down the fort' while we're gone. Also to Al and Sarah for their help in making this possible.
It's been a long road... are we there yet?
Also! Today was D's 33rd birthday, celebrated with beer, a fabulous homemade cheesecake (thanks Sarah!), and coveted Redskins tickets. Not too shabby. I love you!